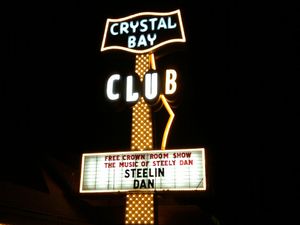 Steelin' Dan fans descended upon Lake Tahoe this past Labor Day weekend to attend the band's debut performance at the famed "CROWN ROOM" concert venue inside Crystal Bay Casino Resort. 

The concert hall was packed, and everyone was feelin' the "Steely Dan love!"  The management at Crystal Bay have already booked the band for a return performance scheduled for Dec. 29th.  If you missed the last show, make plans now to head on up to beautiful Lake Tahoe during the holiday season and catch Steelin' Dan's encore performance.  It promises to be a memorable night!  
For more information, click HERE.