THE BAND

Steelin' Dan is the recipient of Sacramento Magazine's Best of Sacramento Award: "Best Show Stealers."
"Heads up, Steely Dan fans: Instead of waiting for their next tour, get your fix with local tribute band Steelin' Dan. From the straightforward pop/rock of Reelin' in the Years to the quirky, jazz-infected Green Earrings, even the most discriminating Dan fans will be hard-pressed to find flaws in Steelin' Dan's amazingly accurate arrangements and marksmanlike musicianship!"
     -

Sacramento Magazine
Steelin' Dan also won the 2011 Sacramento Area Music Award ("SAMMIE" Award) for "BEST COVER BAND" and 2015, 2016, 2017, and 2018 SAMMIE for "BEST TRIBUTE BAND", demonstating once again the band's tremendous popularity. 

Steelin' Dan presents a memorable experience, one that continues to excite fans throughout California and the western states.
 
---
Kurt Shiflet        Charley Langer        Maurice Montgomery
Bob Williams       Jimmie Adams       Dave Buehler       Sandford Wragg
Kimberly Parsons        Lahre Shiflet        Larry Tagg       Kirt Shearer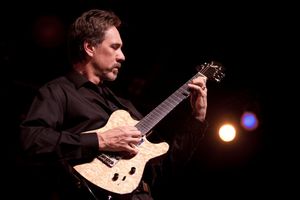 Kurt Shiflet - Guitar
After embracing the guitar at an early age, Kurt Shiflet attended Guitar Institute of Technology (GIT) in Hollywood, CA where he studied with such greats as Don Moch, Joe Diorio and Chick Corea Elektric Band guitarist Frank Gambale. After GIT, Kurt attended Sacramento State University where he earned his Bachelor of Music degree, and went on to earn his Master of Arts in Music degree in classical guitar performance. Although he loves both jazz and classical, he is a rocker at heart being heavily influenced by the blues and R&B of the 70's. Kurt is a sought after performer in the northern California area, playing with several different groups with varying genres, as well as with Sacramento Music Circus. Kurt is a full-time music professor at Sacramento City College. His love for the Steely Dan catalogue goes way back, and he demonstrates his amazing skill by replicating the signature guitar work for which Steely Dan is so well known. Kurt plays custom guitars made by Joe Dragony.  Kurt also teaches private lessons.  Learn more about Kurt, including information about his private guitar lessons by clicking here.
---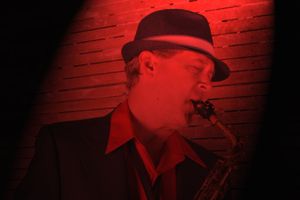 Charley Langer - Saxophone, Electronic Wind Instrument, Horn Transcriptions / Arrangements
Since the release in 2010 of his acclaimed debut album, Never the Same, the multi-talented saxophonist has earned a sizeable fan base. The title track received significant airplay on smooth jazz radio and the Weather Channel. Langer burst into 2017 with an exuberantly infectious, playfully grooving new full-length album, Happy Hour. The 10-track collection showcases the saxman's powerhouse alto on five tracks penned by Nils, and five co-written by Langer and Nils. The album features the cream of the crop of L.A.'s contemporary jazz scene. The album's first single, Set Me Free, reached #29 on Billboard's Smooth Jazz Chart in July 2017. The second single, J Street Groove, became a Top 20 hit, reaching #15 on Billboard in February 2018.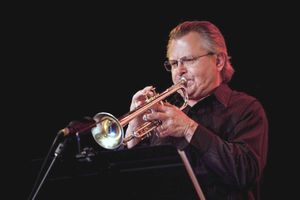 Maurice Montgomery - Trumpet, Flugelhorn
Maurice Montgomery was awarded a music scholarship to the University of Nevada where he earned his Bachelor's Degree in Music Education. He then earned a scholarship to the Berklee College of Music where he studied with Herb Pomeroy and the world-renowned Carmine Caruso. Maurice is currently a member of the California Musical Theatre Orchestra performing in Broadway Shows at the Sacramento Community Center Theatre and Music Circus. He has shared the stage with many of the biggest names in show business including Burt Bacharach, Nancy Wilson, The Beach Boys, Cher, Natalie Cole, Liza Minelli, Pointer Sisters, Lou Rawls, John Denver, Frank Sinatra, and Manhattan Transfer. Maurice has also performed as a member of the orchestras for several Television Specials including The Tony Orlando Show, Dionne Warwick Show, Jerry Lewis Show and Sammy Davis Jr. Show. In addition to being a member of Steelin' Dan, Maurice teaches private lessons at Sacramento Country Day School and Tim's Band Instruments.
---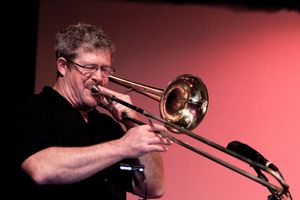 Bob Williams - Trombone
Veteran trombonist Bob Williams is a much sought-after musician in Northern California. He boasts an impressive resume, starting with extensive training in both jazz and classical music as a young student. As he continued to develop his skills, he built a reputation among a long list of bands and orchestras covering a wide range of musical styles. For ten years Bob led the internationally known Wooden Nickel Jass Band, which was a fixture on the Dixieland and Traditional Jazz circuit. In addition to being a member of Steelin' Dan, Bob performs regularly with jazz groups Sister Swing and The Fulton Street Jazz Band. Bob is a past president of the Sacramento Traditional Jazz Society, which produces the world-famous annual Sacramento Jazz Festival & Jubilee. Bob performs as a freelance player with several hi-caliber bands, and is always in-demand due to his skill and specialization in a number of genres.
---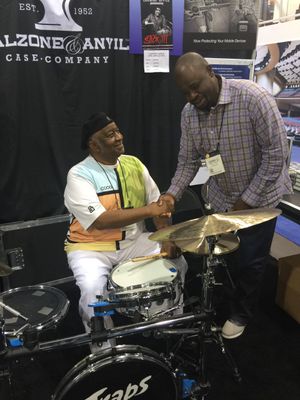 Jimmie with Bernard Purdie

Jimmie Adams - Drums 
Jimmie Adams is a professional drummer from the SF Bay Area with over 35 years of
experience. Jimmie grew up playing in his Father's Band and by the age of 14 was touring
Europe holding down the drum chair for the C.G. Choir of America. Jimmie has been the
drummer for many bay area bands with a style that covers Jazz, Blues, Rock, Gospel, and most
genres asked of him to play. He has received many awards for his drumming, including a
scholarship to Berklee College of Music, and placing in the top 5 of Guitar Center's National
Drum-Off competition, where he was given a solo spot at the House of Blues in Hollywood CA.
Currently, Jimmie is working on a few projects, teaching music, and playing in the Northern Bay
Area, and Sacramento Regions.
---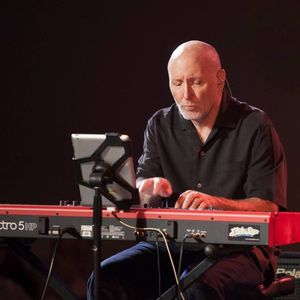 Dave Buehler - Keyboards
Dave Buehler has been part of the Sacramento and bay area music scene for over 30 years as a performing musician, recording engineer, and producer.  He studied classical piano from an early age and started playing in various jazz and rock groups while still in high school.   Dave ultimately went on to study in Los Angeles with Mike Garson, the highly respected pianist who has been David Bowie's keyboardist for several decades.  Dave has worked as a studio musician and/or producer on numerous advertising, corporate, and voice-over projects.  He has also performed with several critically acclaimed local jazz and pop artists including Henry Robinett, Phil Silas, Crayon, Ana G, and Mat Marucci.  The music of Steely Dan has been a huge influence for Dave over the years and is a perfect vehicle for him to express his jazz and pop sensibilities.  Dave's solo project: "The Dave Buehler Trio" has released it's debut CD: "ACOUSTIC IMPRESSIONS".   For more information about Dave and his CD, click HERE.
 
---