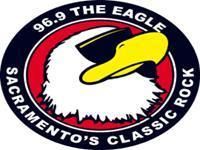 The Eagle's CHARLIE THOMAS interviews Steelin' Dan!
Three members of Steelin' Dan were recently invited as special guests of
Charlie Thomas
, well known DJ at Sacramento's Classic Rock flagship radio station
KSEG "THE EAGLE" 96.9 FM
!
Michael Beaman
(lead vocalist & guitarist),
Kurt Shiflet
(guitarist) and
Ron Hall
(bassist) had the privilege of being interviewed by Charlie Thomas at The Eagle's VIDEO PRODUCTION STUDIO, where it was captured on video.
In addition to discussing the background and successes of Steelin' Dan, Charlie also expressed a keen interest in Steely Dan's music, particularly the timeless GUITAR SOLOS that the Dan are so well known for.  
Charlie asked Kurt and Michael to bring along their guitars, and had them perform a few of the iconic Dan guitar solos in the studio.  The first segment is now posted on The Eagle's Website, and more segments will be added in the coming weeks. 
Check it out by clicking on the links below:
(Note: Video interview begins after a 10 second sponsor message.)

Video Interview Segment #1
Video Interview Segment #2